The Gladiator Trade in programme
Want to turn your old tech or pc into a brand new Gladiator PC?
Our Trade-in programme offers you an easy way to not only save money off your new Gaming PC but save the planet and free up some space from dusty old tech! Whether it's your old underpowered gaming PC/games console, mobile phone or any other tech - simply send what you have to us and we'll give you a price against your next PC no matter what the condition.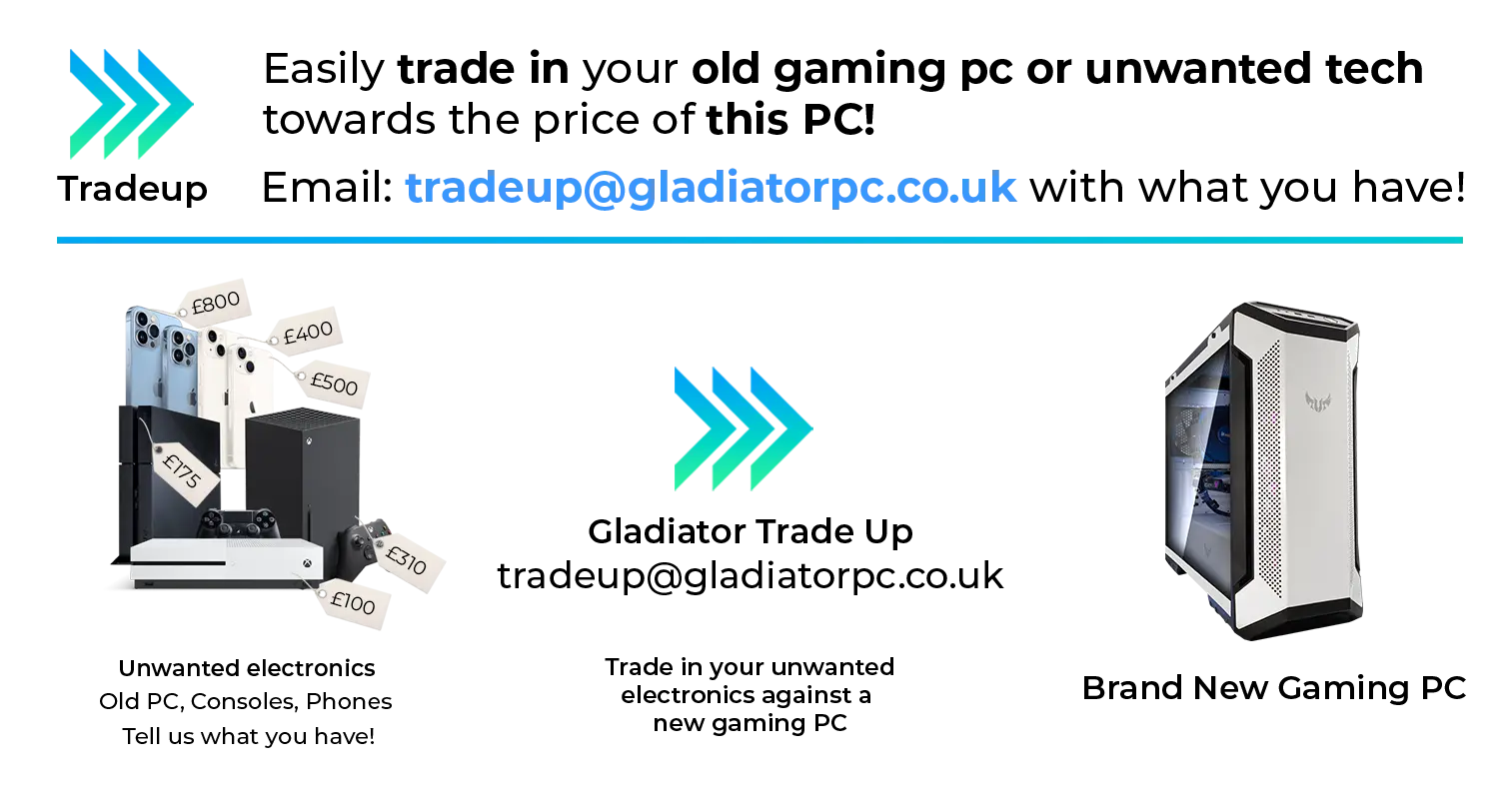 Tell us what you have to trade today:

[email protected]
Trade up your old gaming PC, potentially without spending a penny
Depending on what old tech you have available, you could even trade-in your old gaming pc along with for instance some old phones and potentially get a brand new gaming PC without spending a penny.
It's really simple:
Email us at

[email protected]

with what old tech you have and what Gladiator PC you'd like. We'll produce a valuation and quote for you.
Box up your old tech and send it to us
We'll send you out a brand new gaming pc that's discounted by the value of the tech you sent and ensure that your old tech starts a new journey that does involve landfill
A new gaming PC despite the cost of living crisis
We understand that times are difficult right now for many and the budget for a gaming pc may no longer be there or is now significantly reduced. We're gamers too though and we know how important gaming can be as a form of escape in these difficult times. We knew that we have to do something to help fellow gamers out and helping them to turn dusty old tech that they already have on their shelves into their new gaming PC seems like a win-win.
No credit checks, no finance, no monthly payments
The beauty of using our trade-in programme to help you buy your new PC is that you don't have to worry about taking on any new financial agreements, no credit checks and no monthly payments going out. How great is that?
Your old tech is gathering dust and losing value
If you're anything like us, you probably have an old console that nobody plays anymore, an old PC that doesn't quite hit the performance that you want in modern games now. You may even have a drawer with old mobile phones in it that you didn't get around to selling after each upgrade.
The problem with this is that it's just gathering dust and losing value every day it sits there. At best it may sit there indefinitely, at worst it could even end up in a landfill when it's worthless! Why not do something with this tech, keep it out of landfill and turn it into something that you'll use?
Saving you time and hassle
The reason that we all have dusty old tech is that in reality, it takes time and hassle to sell it. You have to take photos, create the listings on auction/classified sites, take the risk of selling to someone you've never met, pack the product/ship it or even meet up with a stranger in person for collection. Pair that with the painful fees that come with this and we understand why your tech is probably gathering dust.
Let's skip all of that hassle and do it better with our Trade-In programme. You know that you're dealing with a company with an outstanding reputation and Trustpilot score so you don't have to worry about any of the above.