APOCALYPSE - Intel SKYLAKE Gaming PC - Upgraded to GTX1060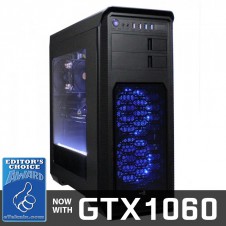 Buy Now (Default Config)
Specification Highlights
Processor:
Intel i5 6400 Quad Core
Graphics Card:
ASUS GeForce GTX 1060 3GB GDDR5 [UPGRADED]
Memory:
8GB DDR4
Storage:
1TB SATA III Hard Drive Hard Disk
Motherboard:
Intel Z170 Skylake Chipset ATX
Power Supply:
600W 80+ Certified PSU
Case:
AeroCool Aero-800 Windowed Midi Tower
Optical Drive:
24x DVD Re-Writer
Operating System:
Windows 10 (64Bit)

You can configure this system below, by making whatever changes you require and clicking the "Go To Checkout" button. Or, if you simply want this PC with the default configuration chosen by Gladiator, you can buy now.
SPECIAL PRICE!
AVAILABLE WHILE STOCKS LAST
The Apocalypse MkI is now sporting the new GTX - 1060 recently released for sale in UK in Nov 2016.  This will offer a massive increase of up to 14% in graphics performance, for only an extra £23! Meaning you'll be holding a higher ground when playing games.  
Click the banner to order a pre-built version of the Apocalypse* for Next Day delivery**
* Default system comes without an Operating System, please choose from config options.
**Applies to orders placed before 3:00pm Mon-Thurs, excluding Bank Holidays. Saturday Delivery is also available.
Customise Your APOCALYPSE - Intel SKYLAKE Gaming PC - Upgraded to GTX1060
Need Help? Click on a component image for more details, or on the information icon for help with jargon. Between 9am and 5pm Monday to Friday (UK Time) you can click the Chat With Us icon at the bottom of the page to speak to us directly.